TAKE-AWAY GPRS PRINTERS, WEATHER STATIONS AND MORE
&nbsp

GPRS printer type TCP 4G

TCP 4G prints GPRS messages on 80 mm wide paper (3,15 inches). Ideal to use as a restaurant ordering device. It has buttons to ACCEPT or REJECT the order and to indicate an estimated delivery time. We can provide a complete service with an easy to interface back-office server.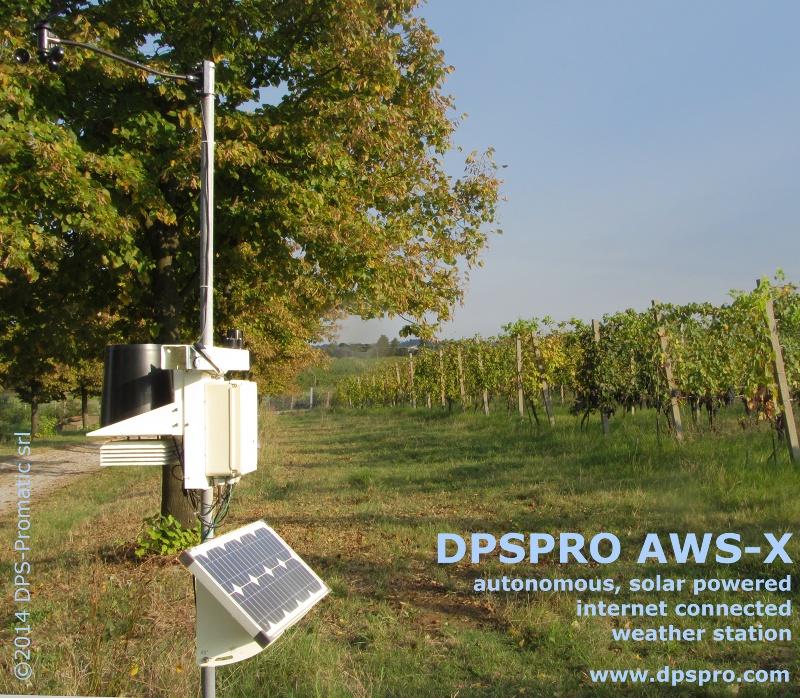 Autonomous automatic weather station type AWS-X with GPRS internet connection
DPS-Promatic manufactures GSM weather stations since 1999. Year after year we have improved them, adding new sensors and making them more suitable for agriculture and weather data acquisition. The version we produce now is ideal for anybody who wishes to set up a network of stations to monitor the climate in different areas. Thanks to the built-in GPRS feature, this unit will send data in the internet to your server from anywhere in the world. With the AWS-X solar powered stations it is possible to acquire data very easily, at a cost that is unbelievably low. It is possible to use wireless sensors working up to 150 m distance. Depending on the sensors attached to it, the AWS-X weather station can measure the following parameters:
Wind speed and Direction
Air Temperature (also wireless)
Relative Humidity (also wireless)
Rain
Solar radiation or UV radiation
Leaf wetness
Atmospheric air pressure
Soil temperature (also wireless)
Soil moisture
It has the following standard features:
GPRS upload to a WEB server
Solar Battery charger
Frost alarm, High temperature alarm, Wind alarm, Rain alarm
SMS daily message, SMS query request
See PRICE (ask for quantity discounts)
GTR-GPRS data logger for temperature, rh, rain

Various companies have developed diseases prediction systems to helps farmers treat coltures effectively with less use of pesticides. In order for these models to work efficiently it is necessary that climate data are acquired on site, and this is done best with DPS-Promatic GTR Temperature/Humidity and rain GPRS data logger. The GTR is a low cost device that measures every hour (or 20 minutes) temperature, relative humidity and rain and send the acquired data to a server in the internet, thanks to a mobile GPRS data connection. It is self powered with a solar panel and has its own battery charger. It can have an optional Leaf wetness sensor.

See PRICE (ask for quantity discounts)
GTM - temperature monitor for Railway Tracks etc

The GTR unit can also be modified into a GTM device, that measures temperature coming from a sensor attached to the part you want to monitor and sends temperature every hour to the internet enabling the intervention of personnel only in case temperature goes above or below certain thresholds. This units have been supplied to RFI (Italian railway company) and are being tested right now in some locations to monitor temperature of railway tracks

See PRICE (ask for quantity discounts)
Design of custom electronic boards

At DPS-Promatic srl we design electronic boards since 1981 and we have built a strong know-how in designing boards for coin-operated machines, that have to endure electrical noise, power failures, humid, hot or cold environment. We never consider extreme conditions to be an excuse for problems, we solve problems so our boards can work in these conditions. We have manufactured electronics for photo-booths, for weighing scales, for blood pressure machines, for weather stations, for GPRS and wireless telemetry equipment. If you need a special design, ask us, and we will probably be able to offer you an affordable and reliable solution.
Telemetry for vending and amusement machines

We design telemetry for vending and amusement machines since 1999. We have solutions for most requirements, including stand alone GSM/GPRS units, wireless units linked to a single GSM unit to send data to the internet but save costs. We also have wireless units with manual download of data via a local wireless interface for any Android device. This can be a very good solution if you don't want to send your data to internet.
Links to other pages and sites about our products