Autonomous weather stations with wireless connection and irrigation monitors
If you are looking for a reliable robust professional weather station at a just price, keep reading.
At DPS-Promatic srl, in Italy, we are manufacturing Weather Stations and wireless monitoring devices since 1999. All our stations are autonomous, powered by solar panel and only need a SIM (that we may supply) to start sending data to the internet.
Our WATER-SMART soil moisture monitors need only a hole in the ground, because all the rest is included.
Here are some real time data received by our servers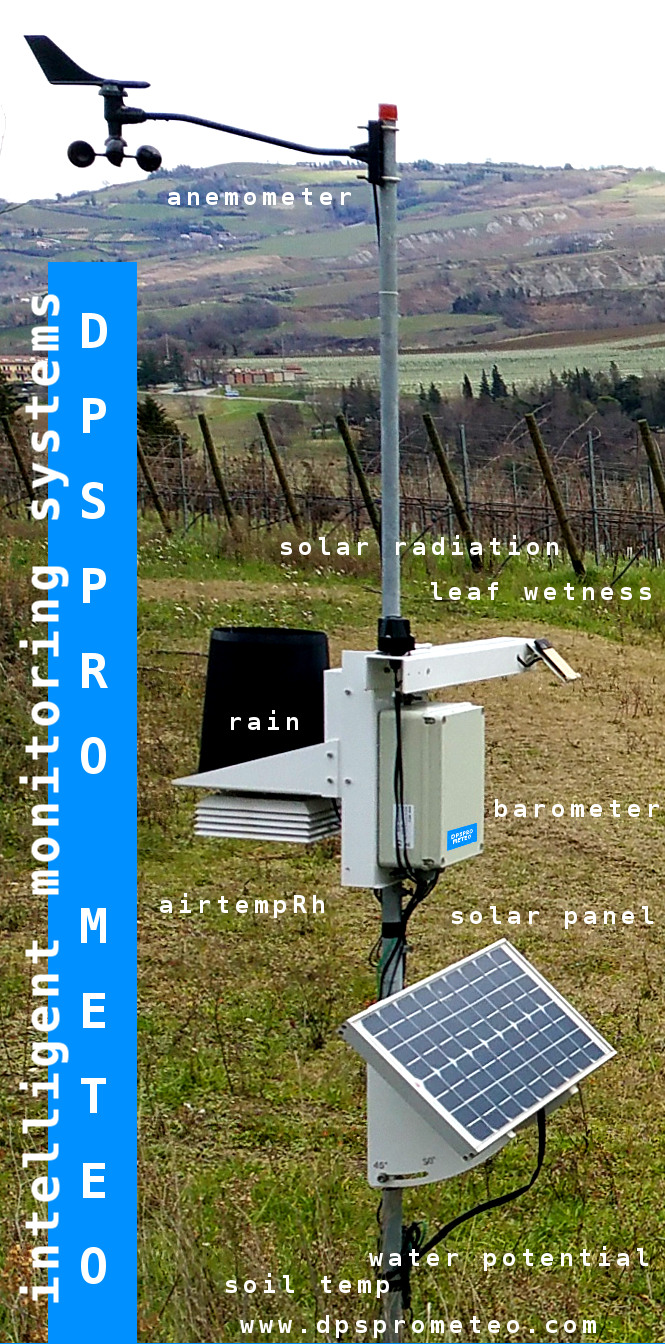 AWS-X weather station
Technical specifications:
Connected over a 2G/NB-iot/CatM1 or LoraWan network, with a low cost data SIM
Solar panel with integrated battery charger
Battery operation lasts for days even in cloudy conditions
Completely programmable via internet or SMS or with a local cable connected to a PC or an Android device
Strong and weather resistant
With provided software computes EVAPOTRANSPIRATIONaccording to FAO Penman-Monteith equation
With provided software computes HOURS-OF-LOW-TEMPERATURE in a period of time
Data format freely available. You can build your own service or use our server, as you like.
Available sensors
Sensors can be chosen among the following, manufactured by us or by third parties:
Anemometer
Rain Collector
Air temperature and humidity
Air Pressure
Solar radiation
Leaf Wetness
Soil Moisture
Soil temperature
---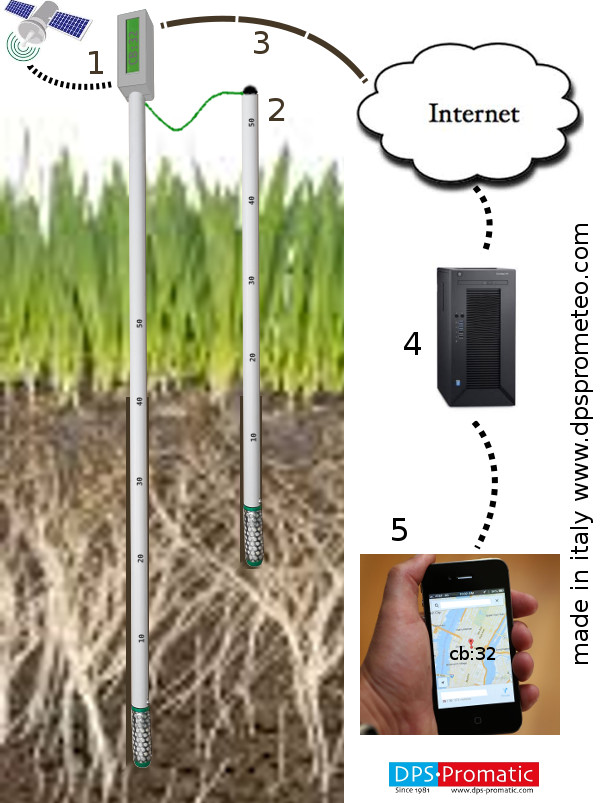 WATER-SMART tensiometer
Our Water-Smart wireless sensor is the final and easy-to-install solution for irrigation monitoring with wireless 2G/NB-iot/CatM1 or LoraWan connection. It can be used alone or in couple with another sensor, sharing the same electronics. Using the Water-Smart Gprs sensor alone (1) you can measure soil moisture (osmotic tension in centibar) on a single point, at a depth that ranges from 10 to 50 cm.
Using the Water-Smart wireless gprs sensor connected with another sensor (2) (using the second i/o port provide in the Water-Smart device) it is possible to measure a delta of 2 depth, for example 15-30 cm, to effectively monitor irrigation. In this case one would start irrigating when the superficial sensor is above a certain value and stop it when the deep sensor is below another (usually lower) value. In the most complete version, thanks to the integrated GPS antenna, the sensor will be automatically located in the map.
These are the specifications:
1- measures water soil humidity using the well-proven WaterMark sensor.
2- sends data to the internet (3) every hour (with intelligent delays when possible, to save power) over 2G or NB-iot or CAT-M1 or LoraWan network.
3- it can have an integrated GPS for easy placement on a map.
4- it comes with a special battery that can guarantee over 300 days of use, that means many years in standard seasonal usage.
5- you can read data locally on the display or anywhere there is internet connection, with a smartphone or pc. There is a separate page for each device, according to its unique serial number.
---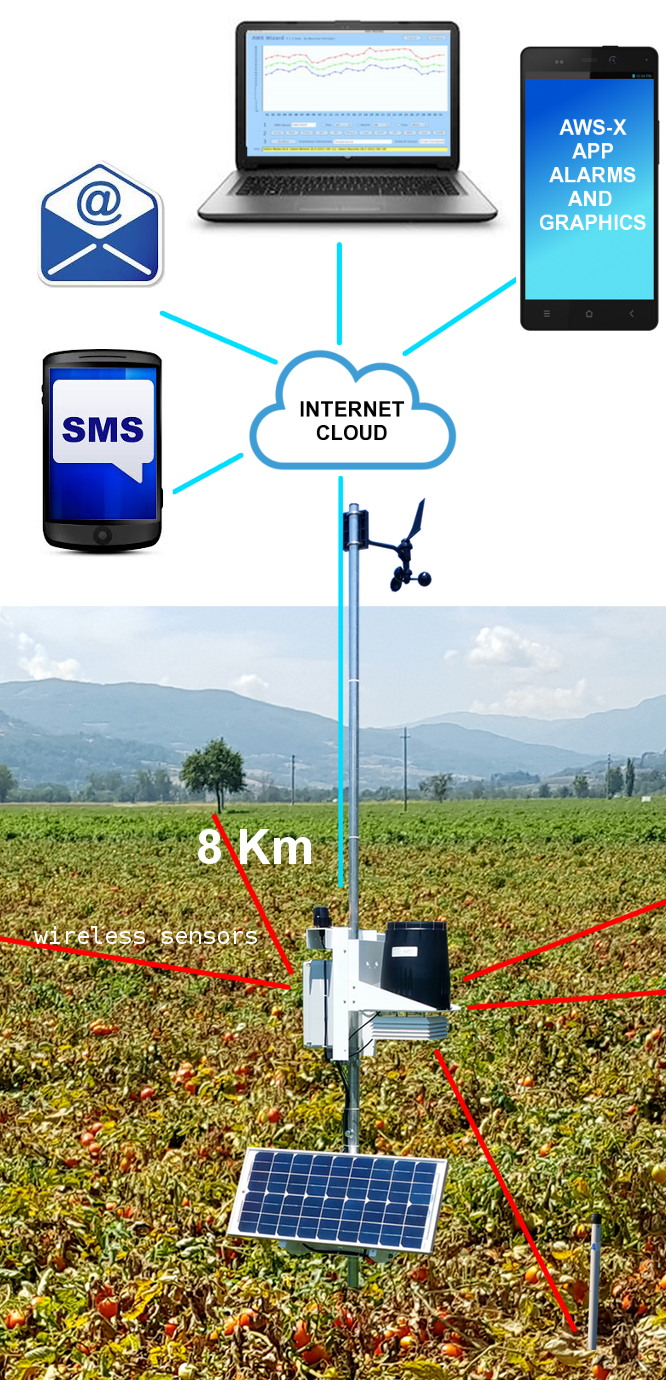 Wireless sensors with LORA connection
Our station has the option to link with wireless sensors for air temperature/humidity leaf wetness and soil water potential. We use LORA technology, that allows distances up to 8 km in open field.

Multi sensors irrigation monitor system
It is possible to connect multiple water potential sensors (we use the Irrometer Watermark) to keep under control the irrigation of a vast area. Our stations are deployed in the Pianura padana region expecially to monitor crops like tomato, potato, corn and more.

---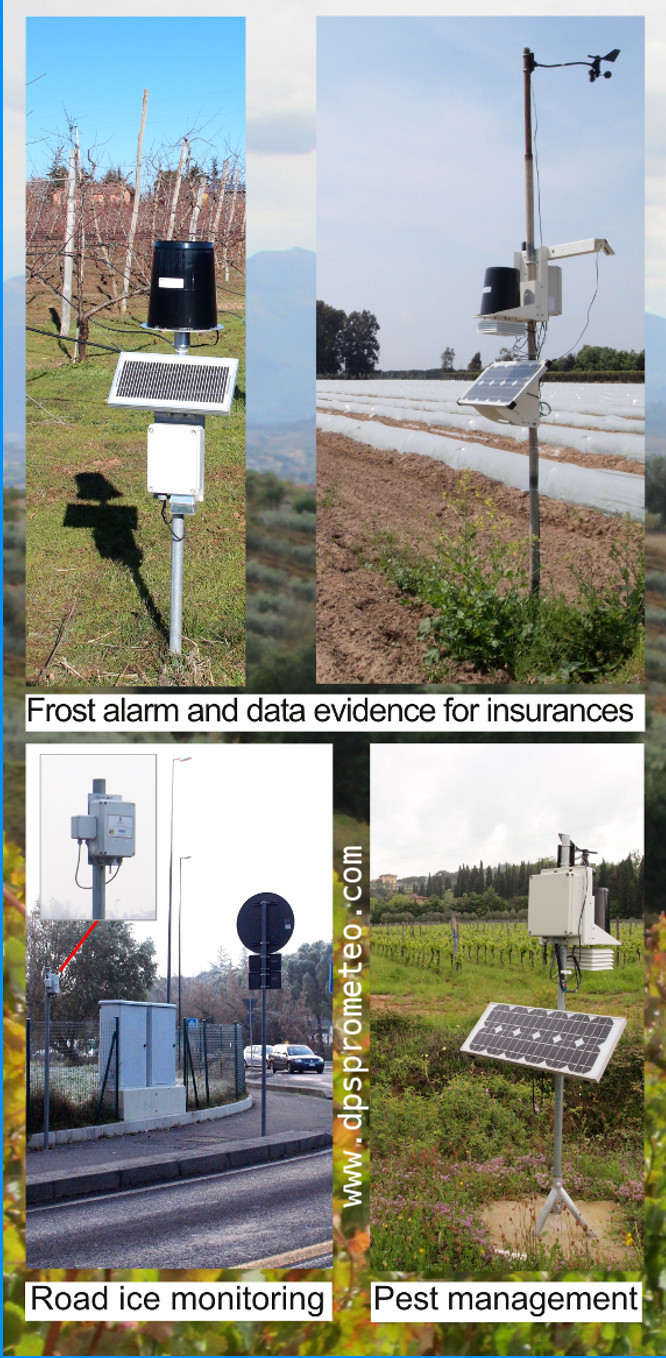 Special custom features
We are the manufacturers so we can add custom features if needed. Some are described below. Ask for any special request.
Siren for strong wind or strong rain
Voice
LCD on the station BOX to read data locally
On board data logger
---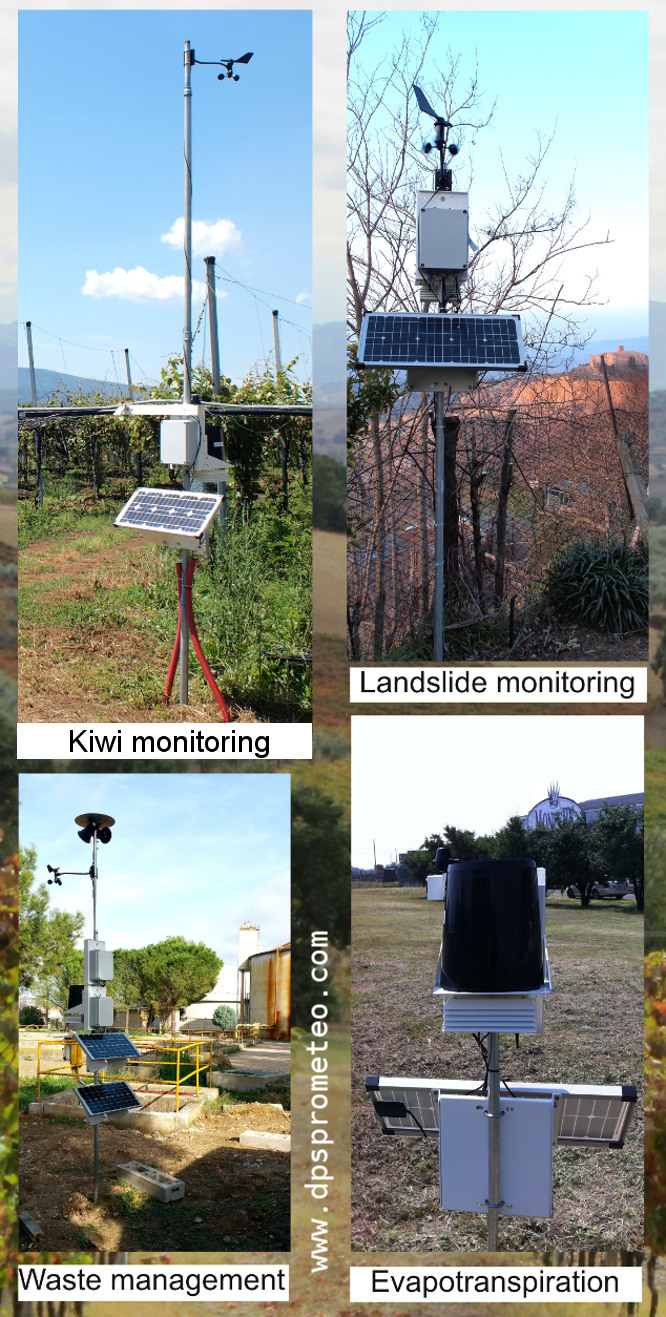 Many satisfied customers
Our stations are currently used by many satisfied customers, among which are the following:
Poderi dal Nespoli, Cusercoli (high quality wine)
Tenuta il Palagio, Figline Valdarno (high quality organic wine and oil, that belongs to the pop star Sting)
Over 20 Kiwi growers in Latina area
Podere Fontecorvino, Montepulciano. High quality organic apples
Comune di Forlì, road ice monitoring
MonteRe, dry prunes, Modena
Massafra waste management plant
San Marino governmental organisation for wine production
Vivai Mazzoni
Terrain monitoring in Volterra
Flieger Club Tegern See, Wallberg mountain (in Hintermaueralm, 1660m)
Many more....
---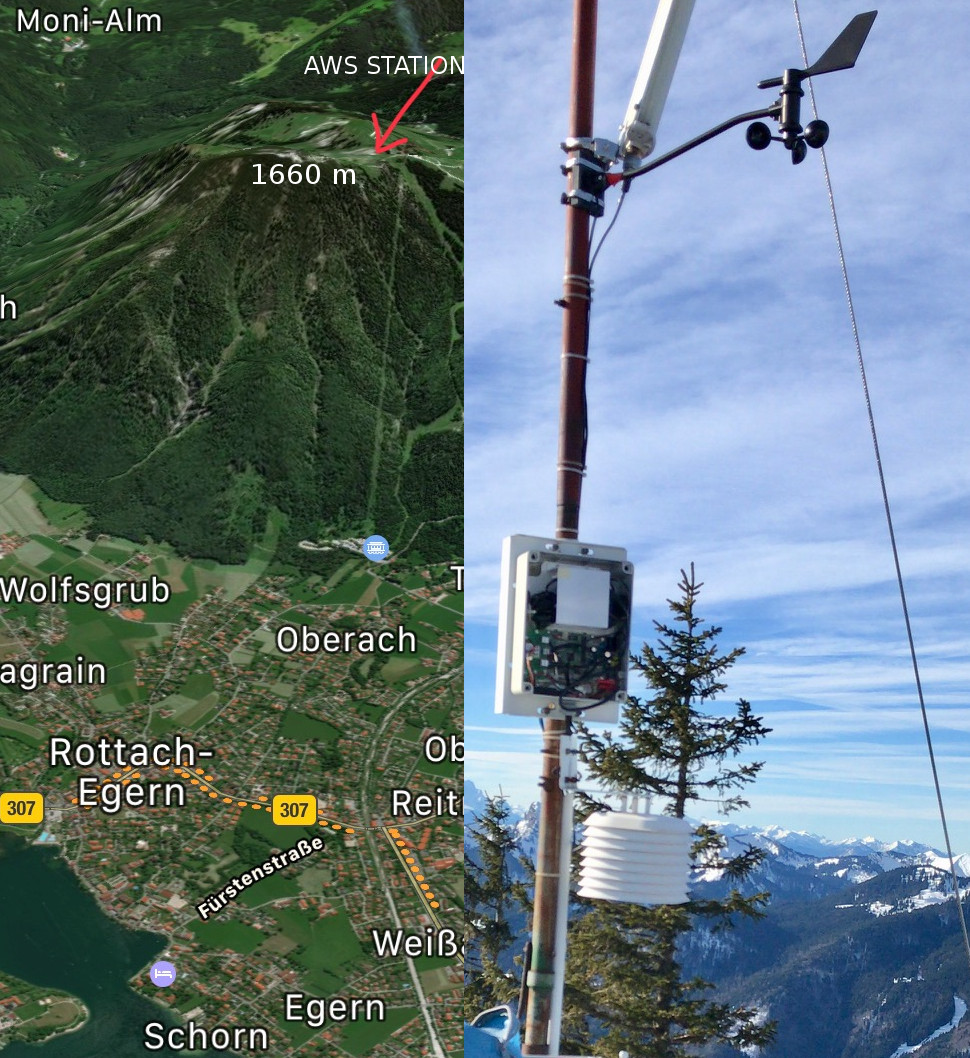 Extreme conditions
Our stations are able to keep operating for many years (the above one is installed at 1660m, over Tegern See since about 13 years) without any major maintenance.
---
Internet data service
Buying our station you can send data to our server and get the basic information for free. Please see the specification of the UDP packet the station sends every x minutes (x can be programmed). We will be glad to provide all the information you need to setup your server. We want our customer to be independent and not forced to stay with us.
---
Prices
Water-Smart tensiometer

This device measures soil moisture using the well proven watermark probe (osmotic pressure, 0 to 200 cb). It has a display and can send data to the internet. It can have GPS for easy localization.

Water-Smart basic: only display (no internet): 199 Euro
Water-Smart Wireless: display and internet: 270
Water-Smart Wireless Pro: display and internet and GPS: 299 Euro
NOTE: the wireless version comes with an integrated SIM and use of our server for 2 years (traffic of SIM may be subject to limitations in some countries). After 2 years you can buy a new battery pack, a new soil probe and another 2 years of service for 150 Euro.
Ice Alert

This device will monitor air temperature and humidity for frost conditions and send SMS Text alerts.
Price: 900 Euro (Includes sensors, modem and solar panel with battery)




AWS-X Multi sensor autonomous weather station

Check the boxes below to see the price of the station with the sensors you like. Every price includes sensor, mechanical fitting and software.
Buying our station you can send data to our server and get the basic information for free.

CONTACT

us for a specific offer. We have discounts and promotions.
---
---